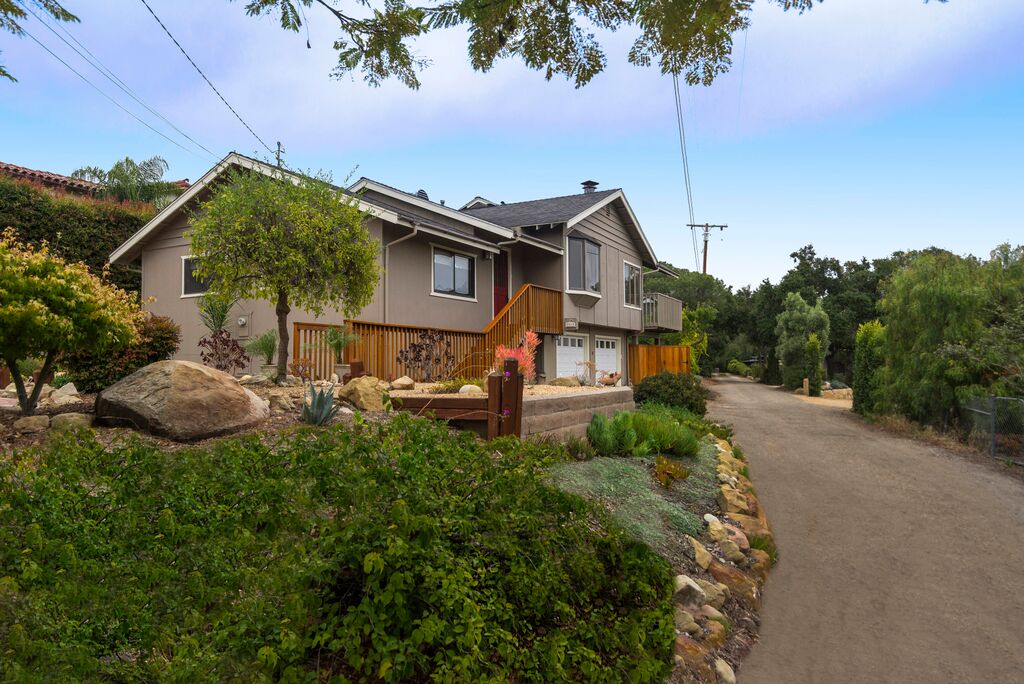 Perched on the top of Mission Canyon Heights on a private lane is this spacious house with ocean and  island views and air conditioning!  The feel of the home is a mix the original era when it was built, in 1976 with beautiful wood detailing and well as modern updates in the living room with a gas fireplace and tasteful finishes throughout all of the rooms.
Off of the living room is an open kitchen floor plan, a family room compete with a loft and separate office.  The multi-level home has three bedrooms on the upper levels and two full bathrooms.  Then downstairs is another bedroom or TV room complete with a private patio and spa outside.
The two car garage has additional space for gear or tools and there is a separate laundry room and hallway with plenty of storage and space.  The front yard is nicely landscaped with drought resistant choices and the back yard is lined with passion fruit and has a section paved for furniture and a section of lawn too.
The flexible floor plan lends itself to multiple uses and ways in and out of the house to the yard.  Close to the most gorgeous trails in Santa Barbara, the Natural History Museum and Botanic Garden, this home is also located in the coveted Roosevelt Elementary School attendance area.
School Districts*

-Roosevelt Elementary
-Santa Barbara Junior High
-Santa Barbara Senior High

Upgrades

-Perched on the top of Mission Canyon Heights on a private lane
-Spacious house with ocean and island views
-Air conditioning
-Flexible floor plan with multiple levels
-Home office and loft all lend itself to multiple uses and ways in and out of the house to the yard
* Should be verified by buyer